One Percent For The Planet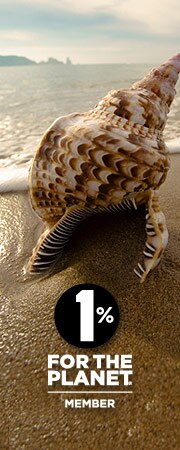 We are very excited to work with 1% For The Planet. Every year we commit 1% of our net sales to approved environmental nonprofits, that meet the 1% For The Planet's strict criteria for non-profits dedicated to environmental projects.
One Percent believes that industry and ecology are inherently connected. Through our donations we believe the true cost of doing business can be mitigated by a simple pledge to the planet. Organizations we have supported through our 1% for the Planet donations include:
Alaska Raptor Center
A raptor rehabilitation center dedicated to the rehabilitation of wild birds, education, and research. Each year the center helps between 100 and 200 wild birds. Bald Eagles are the specialty.
Located on 17 acres of forested land in the Tongass National Forest the center consists of educational habitats as well as a state-of-the-art bald eagle flight-training center. Resident birds include eagles, hawks, owls and falcons. The Alaska Raptor Center does not receive any federal, state or local tax money so we at Ship to Shore Traveler are pleased we can help with our annual donation.
Sumatran Orangutan Society
Ship to Shore Traveler also supported S.O.S. Indonesia boasts some of the most biodiverse forests in the world, yet also has the highest deforestation rate of any country in the world. By preserving the orangutan's habitat, S.O.S. hopes to ensure a future for the orangutan and other rare and precious wildlife such as the Sumatran elephant, tiger, rhinoceros and clouded leopard.
South Georgia Heritage Trust
After almost 200 years of rodent infestation and damage to South Georgia Island, the South Georgia Heritage Trust, Friends of South Georgia Island have successfully eliminated rodents, resulting in South Georgia becoming one of the most important seabird sanctuaries in the world. Ship to Shore Traveler supported the project through our One Percent for the Planet donation.
The Trust reported that rats are no longer eating the pintails' eggs and ducklings in the cleared area. We were also thrilled to learn that the field team witnessed the first successful rearing of South Georgia Pintail ducklings at Grytviken in living memory.
Save The Albatross
Birdlife International's campaign 'Save the Albatross' is another organization that we have supported. Albatross live in the Sub-Antarctic region that is important to our business. Following our One Percent donation to Birdlife international we received this message of thanks:
Birds Australia mentioned your donation to the save the albatross initiative... I wanted to thank you myself. It is very generous of you and much appreciated. We are making progress. We have had wins in deep water longline fisheries and are now turning our attention to surface longlining (tunas and swordfish). There is a lot to do there but we are moving in the right direction.
Dr. Graham Robertson,
Australian
Antarctic Division of the Save the Albatross.
Learn more about our environmental partnerships ...